Digital marketing is growing at a very fast pace thanks to the advancements in the digital world and the adoption of the internet.
As this continues to happen, digital advertising will become a behemoth and traditional marketing may lose its effectiveness.
But, if you want to know which one is the best, this guide to the comparison of digital marketing and tradition marketing, based on statistical data, will help you get the answer.
So without further ado, let's get started.
What is Traditional Marketing?
It is the oldest form of marketing that is undoubtedly behind the success of biggest and oldest brands in history like Coca Cola.
We all have been exposed to traditional marketing at some point as it has been going on before the current generations and the past few generations were even born.
In layman's terms, traditional marketing is a typical mode of marketing that helps businesses to reach a semi-targeted audience by leveraging several offline promotional and advertising methods.
This type of marketing can be hard to ignore as a consumer as it is everywhere around us. It can be categorized into the following:
Print: Advertising in the newspaper
Direct Mail: Printing out pamphlets or leaflets and distributing them through the mail
Telephone: Doing telemarketing by calling potential clients
Outdoor: Putting up billboards
Broadcast: Broadcasting through radio and television
Though traditional marketing has evolved a lot over the past few decades, its modes (the five types given above) are almost the same.
Benefits of Traditional Marketing:
Reach Your Audience Easily:
This one is perhaps the easiest way to reach the audience if you are doing marketing locally and want to target a highly specific audience.
You can just put ads in your local newspaper, send out mail to people near your business or broadcast your advertisement on your local radio station.
According to Statista; the radio station of Washington D.C. along pulled out $68 million in the yearly revenue. And that is because the majority of the U.S. population still listens to the radio.
And if you're in Washington DC then you're probably listening to the radio while you're stuck in traffic for hours on in…
Printed Messages Stay Longer:
This simply means that the message you are trying to send through your advertisement which mostly encompasses a call to action stays longer with people.
The reason is that printed newspapers and pamphlets are usually not thrown out quickly and they keep lying around in the house for a few days or weeks maybe.
And since you keep seeing the printed ad lying around or that you may be using as scratch paper… then it continues to remind you of the product that someone may be offering.
According to Marketing School; print advertising alone generates nearly $30 billion in ad revenue every year.
And that is only possible because of its high audience reach and the ability to stay longer in people's homes and throughout the cities, towns and neighborhoods.
Not too shabby for printed advertisement, right.
It's Easier to Understand:
The current generation of millennials (Born 1981-1996) and baby boomers (Born 1946-1964) is use to the advertising strategy of traditional marketing.
And that is why it is easier for people to understand the message of the advertisement that is mentioned in the newspaper, billboard, pamphlet or broadcasted in a radio.
If you go down rabbit holes like I do then you can appreciate this graphic by the Pew Research Center which define the generations.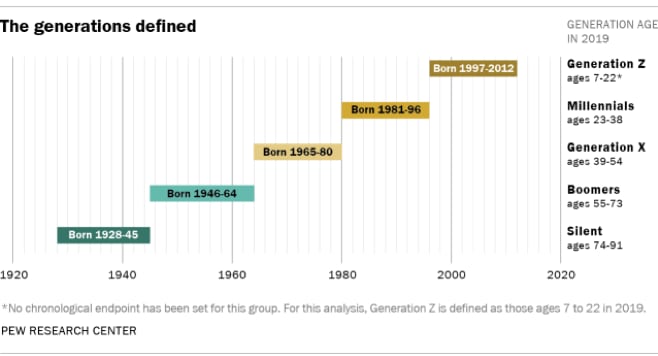 Drawbacks of Traditional Marketing:
Little Interaction:
As the time is passing and more and more people are migrating to the internet, the interaction with traditional modes of consuming information like the newspapers or televisions is getting smaller.
According to Statista; there were around 3.9 billion users on the internet as of 2018.
And this number would only grow in 2019 and the coming years. So this means people are more interested in consuming content through the internet that holds the potential of being the future of marketing.
And if you are a savvy business owner then you know that all good businesses have to always adapt and overcome or they will die.
It Can Be Costly:
The use of traditional marketing especially print can be very costly.
The cost mainly lies in the entire orchestration that's needed to print and distribute something out and if it's in radio or television then you need to broadcast.
All this requires time and time equals money right. You need to have staff to write, edit and approve, operate printing machines, people to distribute, record and broadcast… many things.
Radio and television stations also rely on earning from advertisements and therefore it can be pretty expensive as well.
In 2018 businesses spent roughly $175,000 per second on an advertisement during the NFL for just only a 30-second ad… yup…
Ads during sports are probably some of the extreme cases of marketing because tons of people are tuned in during that event.
And if you know anything about how television ads are priced then you know that they are priced on Cost Per Thousand (CPM) people.
While digital advertising on the internet can be priced on something like a Cost-Per-Click (CPC).
So in essence, for TV ads, if you want more people to see the ad then you pay tons of more money… but in digital ads, you can have millions of people see your ad but only pay when people actually click on it aka take action.
So you can see the difference… traditionally you can blast ads out and litter the streets with them…no pun intended… and hope that people take action… versus digital ads where you can only pay if people actually take action.
Up to you how you want to grow your business…
Difficult to Measurable Results:
Which leads me into this next area.
Because of what I mentioned above there is no surefire way to know precisely what results you achieved out of your traditional marketing campaign.
You cannot exactly calculate the Return On Investment (ROI) which makes traditional marketing somewhat a shot in the dark where you hope you have hit the target.
Especially if you are using multiple streams of traditional marketing at one time. However, playing devil's advocate because that's how I roll.
You could measure if you develop a tracking system but this would be extremely manual in nature but many have done it before.
For example, you could send out 100 pieces of mail with one offer (picture, headline, body copy and call to action)…
Then another 100 with a slight variation of the initial or a completely different offer; depending on what you're trying to accomplish…
Testing ads versus selling multiple products with an ad copy that works. But as I mentioned, precisely was the keyword.
Traditional marketing is based on lots of manual things and things that you have no idea if it happened or not; so in essence it is lost data.
As in, do you know if someone even opened your mail… or if it even arrived at its destination.
You could by tracking every piece of mail with the post office but you could see how that becomes expensive and cumbersome; so people don't do it unless it is important.
However, in the digital world, all this happens with automated systems in place…
Therefore, many have done it before me and people are still doing it today with success but I'm not saying whether it can be done or not because it obviously can.
However, with that said, advertising has become less expensive, measurable and easier to perform in today's digital world.
The awesome David Ogilvy, the Father of Advertising, crushed it doing traditional advertising. People like me are still learning from him because of his impeccable relentless research and dedication to the craft. Love you Brother!
What is Digital Marketing?
Digital advertising or online marketing encompasses the marketing efforts that are carried out through the internet or electronic devices such as smartphones, computers…
And pretty much anything connected to the digital world… which nowadays are lots.
Any business ranging from a plumbing service looking to reach customers in its vicinity to the international tech giant Apple trying to create its digital omnipresence can leverage digital marketing.
There are various modes of carrying out digital marketing ranging from free search engine optimization to paid advertising through social media and more. Here are some of the main categories of digital marketing:
Search engine optimization: Our bread and butter. SEO means listing your website in search engine and working on getting it to the first page of the search engine results. Because if you're not first then you're last.
Search engine marketing: Putting advertisements for the specific keywords searched on a search engine
Content marketing: Creating blog posts (like this one), videos and social media posts and sharing them with online users to generate interest in the brand
Affiliate Marketing: Asking marketers to promote the product(s) and paying them a commission for each sale
Social media marketing: Putting advertisement(s) on social media platforms
Email marketing: Sending out emails to potential customers about the product or service you are offering
Paid advertising aka Pay Per Click (PPC): Placing ads on a website and then paying the website owner a sum of money for each click on your advertisement through their website
Digital marketing is a vast sea that offers tons of ways for advertising but the aforementioned types are the most common and most popular ones.
If you want to learn more about Digital Marketing then take a look at our in-depth Guide to Digital Marketing. It goes way deeper into explaining Digital Marketing then these couple paragraphs that we posted here.
Benefits of Digital Marketing:
Precise Targeting:
Whether you want to target the local audience or the international one, you can easily do that with traditional marketing.
You can use the targeting parameters in social media advertisements to target people based on their location, age, gender, occupation and many more.
This makes digital marketing very precise. And according to GE Capital Retail Bank; 81% of the people search for a product online before purchasing it from the store.
This means you can rank keywords that are searched by people in your area on the search engine like "carpets New York" or "Digital Advertising Chesapeake", so when people search that, your business website will come up in the search results.
Interaction Is Possible:
A customer nowadays want more than just an advertisement, they want to personalize the experience, and therefore they want to contact the business directly before making a purchase.
So if you are leveraging digital marketing and running paid advertisements, your customers can directly and quickly contact you on your website funnel or your social media page and make the purchase.
Very Cost-Effective:
You can literally do free advertising with search engine optimization or very cheap advertising using PPC where you only pay for a click.
Which is one of the reasons that we highly recommend that you start your SEO strategy as soon as possible and love SEO!
You can also leverage affiliate marketing and only pay for the sales your marketers make.
According to Demand Metric; Content marketing costs 62% less than traditional marketing and generates about three times as many leads.
The gist is that digital marketing is very cost effective if compared to traditional marketing.
Easy to Track Results:
Not only the results of your digital advertising campaigns are very easy to track; they are very precise as well.
This is something that traditional marketing lacks in a lot.

If you are just doing search engine optimization then you can use Google Analytics to track the number of people visiting your website and other useful metrics.
Furthermore, you can use insights tools offered by paid advertising methods to know what your ROI is and how much people have seen, clicked or purchased by seeing your ad.
Real-Time Results:
You don't have to wait for days or months to get results of your marketing efforts like in traditional marketing.
Digital marketing is quick, you set up an ad and it is on the internet within seconds.
That means you can track the results of your campaign right away and make necessary changes to make it more approachable based on the results.
This will obviously save a lot of your time and money. Unless you're doing SEO… which is a long-term strategy.
More Exposure:
You can get a lot more exposure at very low prices through digital marketing as compared to traditional marketing.
According to Internet World Stats; there are 3.397 billion social media active users which means a lot of potentials to create an audience base by reaching all or most of them at the same time.
This allows brands to quickly build an online presence and go viral if their marketing campaign is right.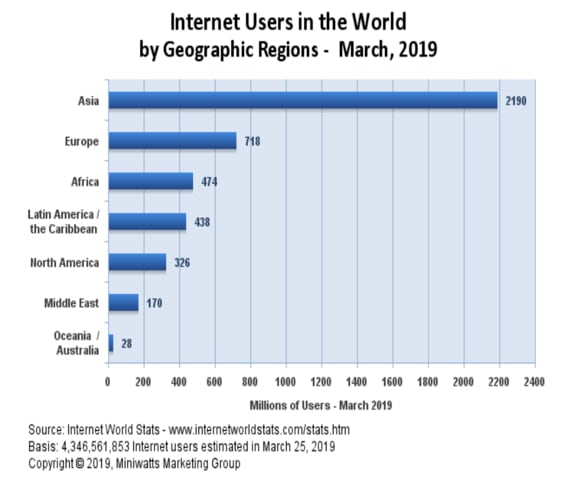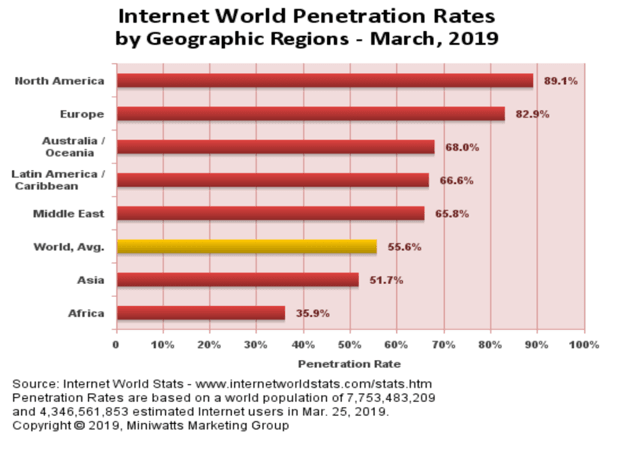 If you are like me then you're properly wondering what the heck are penetration rates and what's the difference between the first chart compared to the second.
So let me tell you. So that you don't continue to think about it and your mind continues to race… I know the struggle is real which is why we're always going down rabbit holes.
The first chart is showing you how many people use the internet in those countries or regions.
And since Asia has over 4.4 billion people compared to everyone else then they will obviously be at the top. With a little over 2 billion of them using the internet.
However, the second chart shows how many people in each country or region actually uses the internet.
So out of all the people in Asia… only 51.7% of them actually use the internet.
Compared to North America, where out of all the people in North America… 89.1% of them actually use the internet.
Cool shit right… well we like data… so it's cool shit to us.
So, Which One to Choose?
So now that you know the advantages and disadvantages of traditional marketing and the benefits of digital marketing, you must be wondering which one to choose.
You may realize that we haven't added drawbacks of digital marketing.
And that is because we don't think there are any major cons of leveraging digital marketing other than the issue of competing with brands worldwide as everyone can put ads on the internet.
But that is the problem with traditional marketing as well, and in fact, if you hire a good and professional digital marketing agency, you can mitigate the risk of getting a tough time from your competition.
So the answer to the question of which one to choose is obviously digital marketing.
Though we do not recommend that you discard the traditional marketing entirely, you can put major focus on digital advertising and then use traditional marketing in highly targeted areas. 
This approach further strengthen your brand's image in your potential customers' or loyal customers' minds.
We are a Digital Marketing Agency that specializes in Website Development | Search Engine Optimization (SEO) | and Paid Digital Advertising (PPC) to help you dominate your local market through a powerful Digital presence.
We are located in beautiful Chesapeake, Virginia right next to Virginia Beach. We service all of Hampton Roads (Norfolk, Hampton, Newport News, Suffolk…) and pretty much anyone on the internet!
There are plenty of businesses and people taking advantage of the digital world to increase traffic, leads and sales; will you be next?
Click the below button to apply for a Cyber Strategy Session and a chance to work with us!
Check Out The Businesses We Helped Grow
Services
Case Study Videos